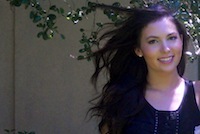 Business Development, Pulse
Cristina leads business development for Pulse, an award-winning application that makes it easy to consume news on mobile phones and tablets. Pulse has been named to the Apple's App Store Hall of Fame, chosen as an Android Editor's Choice app, selected as one of TIME's top 50 iPhone apps of 2011, and honored with the Apple Design Award.
Cristina has led partnerships with over 250 publishers including USA TODAY, Al Jazeera, Car and Driver, Inc., The Daily Beast, The New Yorker, MSNBC, The Atlantic Media Company, Salon, Vanity Fair & Slate. Prior to Pulse, she worked on marketing at Tapulous, (a mobile gaming company acquired by Disney in 2010) and on product quality operations at Google.
Links for Cristina
pulse.me
Blog
@cristinacordova
cristina@pulse.me
Cristina's Presentation