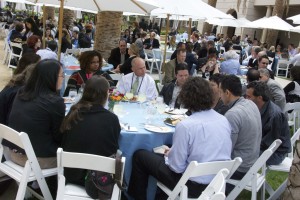 If you are new to Mobile Health at Stanford, please read on to get a glimpse . . .
We are the conference that highlights real solutions for real people — practical, proven solutions. Each speaker will share with you "what really works" — right now. In fact, "What really works" is our official theme.
This is not a conference about speculation or sexy ideas that live only in slides.  That's not helpful.
Our conference is about what really works to improve the health behavior of everyday people. For two action-packed days, you'll hear from the winners, and you'll learn from their successes.
But that's not all. This year we show you what really works in many facets of mobile health, from prototyping to testing, from distribution to monetization.
Our event moves quickly: You'll hear from 25 speakers each day, and we stick strictly to the schedule. No one rambles on and on. By design, we give you long breaks so you can meet the speakers and network with others.
At Stanford, our team's goal is to create the best event of the year.
—
Executive Director: BJ Fogg, Ph.D., Stanford
Managing Director: Tanna Drapkin, Stanford
Co-managing Director: Diane Brodalski, CDC